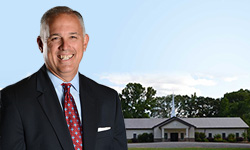 Pastor Danny Allen began serving in a staff capacity at an independent Baptist church in Evansville, Indiana, in 1992. After two years as an assistant pastor, the Lord led him to Arkansas where he was involved in a church planting effort. On July 7, 2004 the Lord moved Pastor Allen to Conway, Arkansas to start a local independent Baptist church.
Ambassador Baptist Church is the result of that leading. Beginning with just four other families, Ambassador has become a vibrant and enthusiastic church where the teaching and preaching of the King James Bible is well received.
Today, Dr. Allen is being used of the Lord to train young men and women in the college classroom, as a speaker and counselor in summer camps for children and teenagers, and in other fundamental Baptist churches as a guest speaker.
Dr. Allen earned both his undergraduate and graduate degrees from Tri-State Baptist College, a further graduate degree from Hyles-Anderson College and a doctorate from Bethel Baptist College. His wife Tabatha (Kerr) Allen is also an alumnus of Hyles-Anderson College.
Dr. Allen and Mrs. Tabatha have enjoyed each other in marriage since 1992 and have one daughter, Lydia.